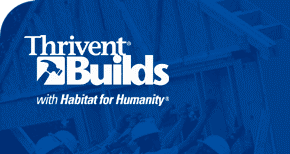 Christ Lutheran Church has made a commitment with Thrivent Builds® with Habitat for Humanity® to build a Habitat house in Waynesboro for the Virginia Griffin family.
Christ Lutheran has not only made a monetary pledge toward the build but also work days. Members of the congregation will help build the house and other members will provide lunch for the workers on our work days.
You may find out more about Thrivent Builds by visiting their website www.thriventbuilds.com
The Virginia Griffin Story
Habitat partner Virginia Griffin, her daughter Traci and grand-daughter Tara.
As I grow older part of my emotional survival is to actively seek inspiration, instead of passively waiting for it to find me. When I was told in 2004 I had scoliosis of the spine, I thought Wow, me, this just was not on my agenda of life. I knew I did not want to be alone, I knew I could not live alone. My daughter Traci, and granddaughter Tara moved in with me, that gave me comfort, knowing we were all together.

I wanted my family to know the joy of having a home, a yard for Tara to play in and security and comfort of calling someplace Home, nails and boards build a house, but, Love holds it together. But, where to start?


I prayed God would lead me along the path he chose for me, it was already started, I didn't even know it. Everything happens for a reason, so-long pity party. Life is a journey that begins with the first step, the only one that can cause failure is the one who never tries. "No one can make you feel inferior without your consent." Eleanor Roosevelt, said those great words of inspiration, and many times in my life I have felt inferior, not worthy....So, I did take that first scary step, because whatever you can do or dream, you can begin it, Boldness has genius, power, and magic in it. I knew God would guide me, lift me, God's delays are not God's denials, Hold on, Hold fast, Hold out, Patience is genius. And, for some of us, it may take a little longer to get on the right path, even the small steps and little victories along your path will take greater meaning. Habitat for Humanity helped me realize this, to accomplish great things we must dream as well as act on it.
Thank you Habitat for Humanity, all the wonderful people involved, my family and I are and will forever be grateful, for taking our hands, along our path of Life.....that will be passed on to the next generation... Knowing through God, love, pride, honesty, and hard work, loving communities can be created.
Sincerely, Virginia Griffin.
If you would like to make a donaton to this project you may send it to:
Christ Lutheran Church
2807 N. Augusta Street
Staunton, VA 24401
Please make your donation payable to:
Christ Lutheran Church
and mark it for Habitat House